Up to 25% lower heating costs and 100% more comfort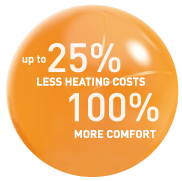 Variotherm technology, proven ten thousand times over.
Up to 25% lower heating costs with the right choice of heating and cooling panels.
Variotherm surface heating and cooling systems work at a low temperature, which is of great advantage when used with alternative energy sources such as heat pumps, solar-supported heating, solar cooling, biomass and other backup storage systems.
100% more comfort with 1 - 3 °C lower room air temperature.
Heated or cooled surface areas generate pleasant, healthy radiant heat. In this comfortable indoor environment, the room air temperature can be set up to 3 °C lower (or higher if using cooling panels). This saves a considerable amount of energy and reduces the level of heat loss from the building.
Healthy radiant heat. Based on the principle of the sun's rays.
The heat is transferred not through the air, but – just like the sun – through gentle infrared radiation. The enormous advantages: No forced air. No dust stirred up.
Comfort – all the time and everywhere.