Everything you need to know about the technology and installation
This is how wall heating/cooling is constructed using drywall construction
Variotherm wall heating/cooling using drywall construction is a flexible panel system and is installed ready for use on walls and roof slopes. The Variomodular pipe (aluminium multi-layer composite pipe) is already integrated in the rear of the ModulePanel.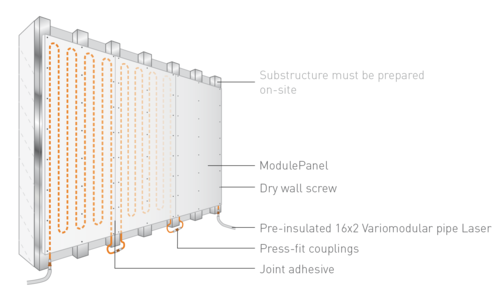 Now available: Experience the ModularWall in 3D and Augmented Reality!
Now you can explore our ModularWall virtually:
- In 3D: Admire our ModularWall from the perspective that is relevant to you.
- In AR: Have your smartphone at hand - scan the QR code and hold it in the room. The product is now virtually simulated in the room. The optimal companion for the construction site.
ModulePanel technical data
Panel: The ecologically tested gypsum fibre board consists of recycled paper fibres, gypsum and water (without binding agents). The components are pressed under high pressure to form a stable and odourless board.
Apparent density ρK: 1150 ± 50 kg/m³
Water vapour diffusion resistance factor μ: 13
Thermal conductivity λ: 0.32 W/mK
Specific heat capacity: c = 1.1 kJ/kgK
Brinell hardness: 30 N/mm²
Thickness swelling after 24h water storage: < 2%
Thermal expansion coefficient: 0.001 %/K
Expansion/shrinkage when the relative humidity changes by 30 % (20 °C): 0.25 mm/m
Equilibrium humidity at 65 % relative humidity and 20 °C air temperature: 1.3 %
pH value: 7-8
Fire resistance as per DIN EN 13501-1: non-flammable, A2
Identification as per DIN EN 15283-2: GF-I-W2-C1
The fire protection of building components refers to their preventive and defensive fire protection properties. It is important that components withstand fire for a specific period. Variotherm ModulePanels for walls, sloping surfaces and ceilings can also be used as fire protection panels thanks to their certification by the Institute for Fire Protection Technology and Safety Research Linz (IBS).
From a fire protection perspective, the 18Ÿmm Variotherm ModulePanels correspond to a 12.5 mm FERMACELL gypsum fibreboard panel (Test IBS-Linz No. VFA2001-0389.01, fire protection assessment file number 10111710).
Wooden or metal substructures
The substructures for the ModularWall are made of timber studs or metal profiles. The structure can be constructed with or without surface panelling or cavity insulation and vapour retarders (vapour barrier).
The following must be observed:
With wooden constructions, the timber used must be sufficiently dry and straight, and conform to the Austrian standard EN 338 (sorting class C24).
With metal constructions, the profiles must be made of soft, non-alloyed steel with double-sided galvanising of at least 100 g/m² according to the Austrian standard DIN 18182-1.
It must be ensured that the construction is designed to carry the weight of the ModulePanels (20.5 kg/m²) and any eventual cladding (tiles).
Do not glue the ModulePanels directly to solid wall structures (plaster).
Arrangement of the heating/cooling surfaces
Wall heating and cooling systems provide optimum comfort. For this reason, they should be evenly installed on the interior sides of exterior walls. With ceiling heights up to 3 m in buildings with good thermal insulation, it is sufficient to construct the ModuleWall to a maximum height of 2 m above the finished floor level.
With ceiling heights > 3 m (e.g. in halls, stairwells, therapy areas), the wall heating systems must be designed higher than 2 m.
Experience has shown that the radiant heat can be felt up to 5 m from the heated wall. In larger rooms it is therefore advantageous to install wall heating systems on two opposing walls.
Estimated values for dimensions:
~ 40 % wall surface of the room area for heating.
~ 70–80 % wall surface of the room area for cooling.
VarioModule-Pipe 11,6x1,5 Laser – aluminium multi-layer composite pipe
The aluminium multi-layer composite pipe from Variotherm is flexible and yet dimensionally stable.
The Variomodular pipe 11.6x1.5 Laser is an aluminium multi-layer composite pipe. Five layers are joined together and make the pipe flexible, easy to bend and dimensionally stable.
The innermost layer of the pipe consists of a very temperature-resistant polyethylene (PE-RT). The mirror-smooth surface does not allow any deposits to form. The water flows through the pipe without resistance and with minimal pressure losses. >>> more
Simple and quick to install
A water-bearing wall heating and cooling system can also be retrofitted using drywall construction for sensitive building refurbishment projects. The ecologically tested ModulePanels are screwed to the pre-marked positions on the timber or metal substructure and glued with the joint adhesive – and it stays in place!
Connect the Variomodular pipes using press-fit couplings and finally fill the panel joints and screw connections. The wall is then ready for painting, tiling, plastering or even wallpapering.