for SystemWall SWHK2
The Variotherm EcoHeatingPlaster has been developed for use as a base coat plaster for the system wall heating/cooling (SWHK2), for a plastering thickness (incl. heating pipe) of up 25 mm. It is a natural construction material, with excellent environmentally-friendly characteristics verified by the IBO quality seal.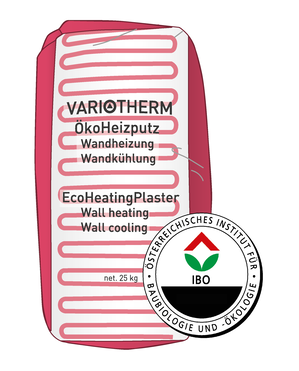 Advantages
Purely organic material
Permeable to water vapour
Hygroscopic
Shock resistant
Good adhesive properties
Premixed hydraulic dry mortar. Classification: GP, PM2, W3
High thermal conductivity – about 10–25 % better than "normal" plasters
Good heat storage properties due to the extremely high oven-dry density of 1500 kg/m³
Good condensation properties with cooling function
Smooth application – suitable for machine and manual application (e. g. plaster machine G4)
Guaranteed heat dissipation values for the whole system (SWHK2)
Components
Plaster sand, additives, trass. What is trass? Volcanic tuff prepared in a drying and grinding process. The main components of these "pozzolana" substances are silicic acids (water insoluble) and clay. Apart from water, no other additives need to be added at the construction site. The plaster cures hydraulically. Only air and water are required for curing.
Maximum grain size: 2 mm
Compressive strength (28d): > 3 N/mm²
Flexural strength (28d): > 1 N/mm²
Thermal conductivity λ: 0.82 W/mK
Acid capacity (m value): 12.4
Oven-dry density (28d): approx. 1500 kg/m³
Fresh mortar bulk density: approx. 1700 kg/m³
Water requirement: approx. 5–6 litres per bag (25 kg)
Material consumption: approx. 45 kg/m² (SWHK2)
Minimum plaster thickness: 10 mm
Maximum plaster thickness: 25 mm
Packaging: 25 kg per bag; 42 bags per EU pallet