"Business helps"-Award for Variotherm
On 21 February 2017, the Fundraising Association Austria presented the winners of the "Aktion Wirtschaft hilft!" campaign with their awards at a glittering gala award ceremony in Vienna. Variotherm Heizsysteme GmbH won a prize in the "Small and medium-sized companies" category for its outstanding social commitment.
The company received the award for its "wage and salary donation rounding", a highly innovative and sustainable donation project. With this social support project, employees round off their net salaries every month. Variotherm then doubles the amount of money collected. "The money is used to support children in need who live in our region – in other words, in the Baden and Wiener Neustadt districts. Detailed information about every project is given to all staff, and there is a democratic vote on which ones to support," explains Alexander Watzek, Managing Director of Variotherm.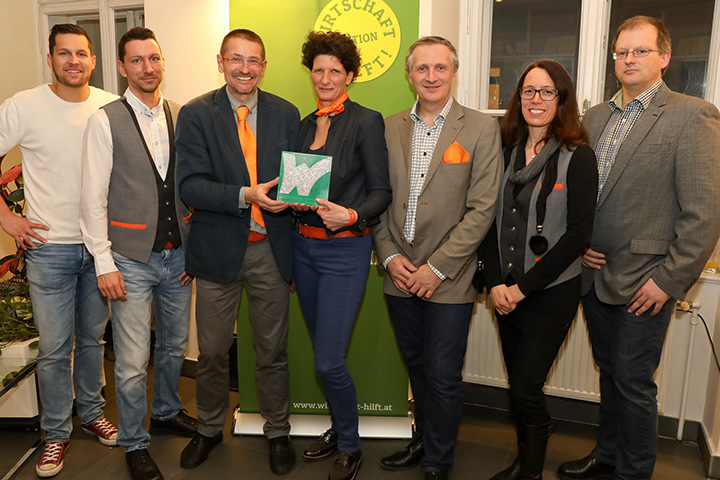 The happy prize winners accept the award on behalf of the entire Variotherm team. From l-r: Mario Baumgartner, Alexander Schauer, Alexander Watzek, Eva Demuth, Alexander Novotny, Sabine Ostermann, Günter Grube. Photo credit: Katharina Schiffl
The prize was awarded in the small and medium-sized business and large business categories. 27 projects were submitted in these two categories. The winners were chosen by a jury consisting of representatives of the Fundraising Association Austria. They based their decision not on the amount of money donated, but on the unique nature and sustainability of the social support project.
"For our company, social responsibility has always been an active part of our work and corporate culture. The award for our wage and donation rounding is a great honour for us. I hope that we will also be a model for many other companies and projects," explained Eva Demuth, CSR officer at Variotherm.
Wien Holding was presented with the award for the large company category for a donation initiative for a children's hospice and a reintegration project for addicts.
About "Aktion Wirtschaft hilft!"
The aim of the Fundraising Association Austria as the initiator of the "Aktion Wirtschaft hilft!" campaign, which began in 2014, is to increase awareness among Austrian entrepreneurs about charitable social commitment and above all, to increase donations to local non-profit organisations.