CLAY WALL FOR NATURAL ROOM CONDITIONS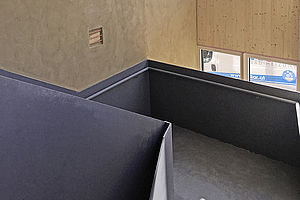 An activated ecological clay wall provides even more comfort in new Variotherm commercial buildings. The wall stretches across two storeys. The Variotherm EasyFlex wall heating/cooling system heats and cools rooms comfortably and safely.
One of the many special features of the Variotherm extension is the clay plaster wall. A core component of the extension, the wall, can be found in the foyer, the VarioCafé and also in the showroom. A large round window provides a clear view of the local mountain in lower Austria, the Schneeberg mountain.
The Variotherm EasyFlex wall heating/cooling system has been fitted by our partner installer, Kollar GmbH, from Lilienfeld and allows for a comfortable room temperature all year round.
"After hearing the many advantages of the natural contents of clay plaster, we knew straight away that we wanted to use the wall to provide buildings with more natural conditions," said Managing Director Alexander Watzek. The clay plaster wall was professionally installed by the Bromberger company BiosLehm (from the Bucklige Welt region).
Advantages of the clay plaster wall:
High thermal conductivity: The heat can be absorbed and transferred quicker. As a result the room is able to heat up and cool down much quicker.
Improvement in sound reduction: The sound from adjacent rooms is reduced due to the clay plaster wall
Clay binds odours and therefore cleans the air
Neutral pH value: We feel more comfortable if the materials surrounding us have a similar pH to our own.
Reusable: Clay can be used over and over again, as it dries out and is not bound with water. Therefore it can be reused whilst also being kind to the environment
Ecological: Clay is made from natural raw materials