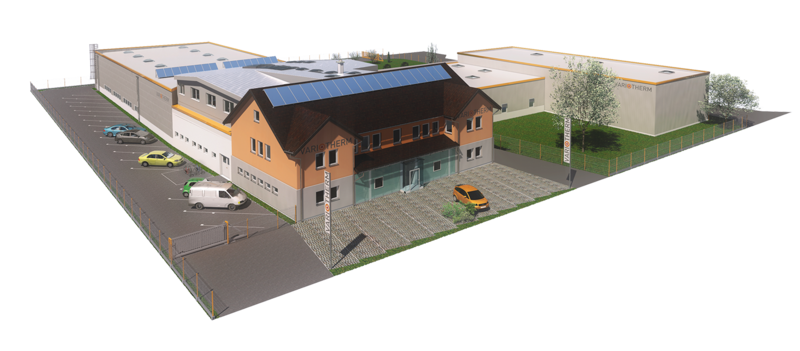 Forward-looking expansion in Leobersdorf location
The biggest investment phase in Variotherm's 34-year history: two new halls in Leobersdorf provide even more space for storage and production. The steady addition of new employees to the Variotherm family was also taken into consideration for the expansion of the headquarters. Further construction plans for 2015 envisage a 200 m2 area for research and development along with spacious premises for the technology specialists team. Brightly lit seminar rooms as well as an oasis of well-being for employees and visitors make the overall concept perfect.
The centrepiece of the production facility is the milling dust collection system, which is now incorporated into the new building. An ingenious traffic logistics system: up to 6 lorries can now be loaded and unloaded simultaneously. Environmentally friendly e-bikes and e-cars will soon be part of the vehicle fleet – fully in line with Variotherm's sustainability agenda.
The freezing cold weather, constant rain and heavy snowfalls posed a real challenge for the construction work. The locally commissioned construction companies and craftsmen deserve our thanks for their strong performance.
Friends, families and children were able to get their own personal impressions during the cheerful summer party held for the entire Variotherm team. The halls were inaugurated with a racy hockey tournament.