OCTOBER 2010
VARIOTHERM IS LEADING COMPANY!
Variotherm is one of Austria's most successful companies. At this year's 'Austria's Leading Companies' awards, Variotherm won sixth place in the 'Solid Small Business' category for Lower Austria.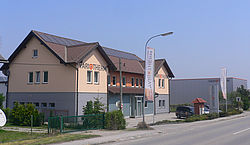 We are particularly proud of this award because, in response to the current financial crisis, they have placed a greater focus this year on sustainable economic development, i.e. on corporate concepts that are aimed at long-term and holistic value creation.
Other important criteria in the assessment included the equity ratio and liquidity, with the KSV rating also being taken into consideration.
The 'Austria's Leading Companies' competition is held each year by the Wirtschaftsblatt newspaper, KSV 1870 and Pricewaterhouse Coopers.