Combination of low-temperature surface heating and high-temperature heating system
If you integrate a low-temperature surface heating system in an existing high-temperature heating system, you encounter the problem of having to combine the two different flow temperatures with each other. Variotherm has developed a special pumped manifold. It means that, e.g., existing radiators (maximum design temperature approx. 60°C) can be combined with a surface heating system from Variotherm (approx. 30°C).
The hydronic system fits
The Variotherm solution guarantees that the additional pump does not affect the existing hydronic system in any way. In other words, both the radiators and the surface heating system can continue to work at full capacity!
The Variotherm pumped manifold is an intelligent injection system and depending on requirements, it either mixes hot water from the high-temperature flow into the surface heating circuit or cold water from the low-temperature return. The aluminium multi-layer composite pipes are connected to the ¾ inch Eurocone connections.
Area of use of a pumped manifold
High and low-temperature heating systems are often connected to each other for attic conversions, bathroom renovations and extensions to existing houses. Between two and 15 low-temperature heating circuits can be connected with a Variotherm pumped manifold. The thermometer clearly shows the temperatures in the heating circuit.
Flow indicator primary circuit
Regulating valve
Pump PMS (WILO Yonos Para 15/6)
Feed & drain cock, rotating
Immersion sleeve for remote sensor
Thermometer
Manual air-vent
Flow valve, adjustable via flow indicator
230V AC, 50 Hz (provided connection cable: 3 x 0.5 mm² [max. 3 A]
Locking ball valve (3/4" female thread)
Variotherm clamping screw fitting 3/4" Eurocone
Shut-off valve for easy conversion to actuator
Variant with weather-guided control station
Variant with fixed value control station
Maximum temperature limiter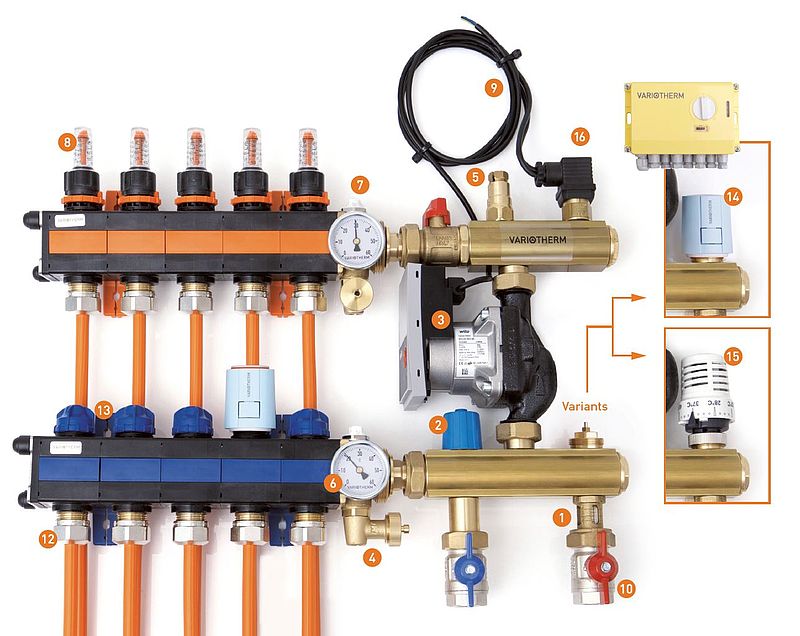 The benefits at a glance:
Rinse and venting option directly on the distributor
Hydronic balancing by way of flow rate valves
¾" Eurocone connections to the surface heating circuit
Adjustment of the total flow rate by way of the integrated regulating valve
Compact design and therefore less space required
Two regulator options for the flow temperature - a fixed value regulator or a regulator that is guided by atmospheric conditions
The special compact heating pump ensures the necessary quantity of water in the low-temperature circuit