PLASTERED WALL HEATING/COOLING
Comfortable rooms all year round
Does it feel comfortably warm inside even though you can't see any radiators? Then the warmth is coming from the wall.The water-bearing pipes are hidden in the wall and keep the room comfortably warm. Unlike convection heating systems, wall heating using radiant heat warms the room to a comfortable temperature without causing a draught. And if rooms get too hot in the summer, the wall heating turns into a cooling system. It is now cool water that flows through the heating pipes.
Warm like a tiled stove thanks to radiant heat
The wall heating not only warms the air, but also operates using comfortable radiant heat: the infra-red waves hit furnishings and unheated surfaces at right-angles. They emit this energy in turn in the form of heat. The people in the room are warmed "from the inside".
This warmth is particularly pleasant for people, since it reminds us of the comforting warmth of the sun's rays on our skin.
Another benefit is that there is almost no convection, which means that the air in the room doesn't become too dry in the winter.
Invisible cooling during the summer
During the summer months, cool water flows through the aluminium multi-layer composite pipes at a temperature of around 16-20 °C and cools the rooms to a comfortable and healthy temperature. Draughts and noise are a thing of the past – and the wall cooling can therefore also run at night.
The extra benefit: There is no annoying air conditioning unit inside anymore - the walls can be tailored to your needs. A clear alternative to air conditioning systems.
Where can wall heating/cooling systems under plaster be used?
New buildings
Old/Period buildings
When walls are plastered, the wall heating can be modified to suit all design requirements. Both large and small surfaces can be efficiently used.
The VarioBars for affixing the VarioProFile pipes (heating and cooling pipes) meet all comfort needs, with wider pipe spacing for large-area laying of the heating and cooling system and closer pipe spacing for comfy nooks and snug interior spaces.
Can I place furniture in front of wall heating?
Placing furniture in front of wall heating/cooling reduces the heating and cooling performance.
A desk, smaller shelves, sideboards or a couch are not a problem. However, a wall unit or larger cupboard is not suitable, since it covers over too much heating and cooling area.
Our tip: decide on your room concept and interior furnishings in advance.
Hanging up pictures is no problem!
Can I hang pictures on the wall if I have wall heating? Yes! The aluminium multi-layer composite pipes can be located at any time. The pipe locator locates the VarioProFile pipes thanks to their aluminium layer. It issues a beep signal and an LED lamp lights up to indicate that a pipe has been located.
The pipes can also be located when the wall heating is in operation by using a Thermofoil.
Saving energy while system is in operation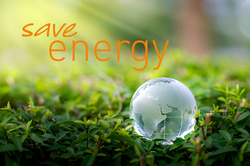 Wall heating:
Wall heating operates with low flow temperatures. In other words: Due to the large-area laying, this surface heating can heat the room with flow temperatures of between 26 and 38 °C (depending on the outside temperature). By comparison, radiators require a flow temperature of up to 60 °C. That is because, due to their smaller surface area, they only radiate heat in the room at certain points.
Another reason why surface heating saves energy is that the room air temperature can be reduced by up to 2 °C compared to radiators. Even so, we feel comfortably warm in the room. Every degree less saves around 6% heating costs per year.
Our tip: Insulate the outer walls and save even more on heating costs!
Wall cooling:
If the room is cooled via wall, we already feel comfortable at a room temperature of 26 °C. By comparison, if the room is cooled using an air conditioning unit, we need a room temperature of around 23 °C to achieve the same level of comfort. Therefore, with a surface cooling system, you save up to 30% on energy costs.
On top of this, the wall is cooled without making any noise or causing a draught.
Wall heating compared to floor heating
Compared to the floor, a wall offers a larger exchange area for heating and cooling. We receive more radiant energy than with floor heating systems.
Briefly explained: with radiant heat the infrared rays are emitted at right-angles to the wall. This means that with wall heating, they exchange radiant heat directly with the person in the room. The body is warmed "from the inside". With floor heating, only a lower percentage of the potential surface area of a person's skin is exposed to the direct exchange of radiant heat.
With wall heating, the person in the room can choose their distance from the heating surface themselves. With floor heating, they are in direct contact with the heating surface.
The ideal solution is wall heating combined with floor heating.
One more benefit: During the summer, the wall cools your home to a comfortable temperature.
One system – many benefits
Whether it's large-area walls or cosy benches, with wall heating under plaster, you can enjoy comfortable radiant heat everywhere. Heating in winter, cooling in summer – all with a single system. Comfort becomes an everyday experience within your own four walls.
The benefits for you
Invisibly installed in the wall – design the room as you wish
No draughts, no dust disturbance
Completely silent – can also run at night
Installing sockets and light switches and hanging up pictures is no problem at all!
A comfortable room climate thanks to radiant heat exchange
The temperature can be regulated individually for each room
Alternative energy sources such as heat pumps, solar or biomass can be used
Saves up to 25% heating costs
Maintenance-free
10-year guarantee
The wall heating/cooling system under plaster quickly reaches the right temperature. Due to their profiles, the VarioProFile pipes surface is up to 10 or 15% larger than comparable aluminium multi-layer composite pipes. This means optimum heat transfer. Comfortably warm in the winter and pleasantly cool in the summer.
The benefits for you
Complete systems instead of individual components
SystemWall awarded the IBO test seal
Surface heating and cooling from a single source
VarioProFile pipes for optimum plaster adhesion
Free advice and service – laying of the system, including laying plans
Energy-efficient, low-temperature system
Can be combined with renewable energy sources
Corrosion-free heating and cooling pipes (aluminium multi-layer composite pipes)
A pioneer in surface heating and cooling systems, with 40 years' experience
10-year guarantee
Are you looking for a heating and cooling system that doesn't limit your creativity? We have the solution: wall heating/cooling under plaster. The surface heating and cooling system is installed in the wall, making it invisible. No more bothersome radiators or air conditioning units.
Thanks to the exchange of radiant heat, the wall heating/cooling system does not use forced air. That makes it particularly suitable for medical buildings.
The benefits for you
Invisibly installed in the wall, saving space
In winter = heating
In summer = cooling
Free of draughts – also suitable for medical buildings
Low energy costs
Silent – can also run during the night
Installing sockets and light switches and hanging up pictures is no problem at all!
Controllable via smart technology
Made in Austria
Does wall heating/cooling have any disadvantages?
You should avoid placing furniture in front of the heated or cooled wall without prior planning, since the heat output could otherwise be impaired. Even so, it offers a great deal of freedom when it comes to designing your rooms. Why? Because there are no more bothersome radiators in the room.
You should be aware of the heating pipes when hanging up pictures. The aluminium multi-layer composite pipes are easy to locate with the pipe locator or thermofoil.